Therapy Dog
TRAIN YOUR OWN DOG AS A THERAPY DOG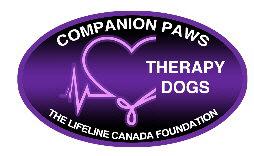 Crazy Jumpers is working with Companion Paws Therapy Dog Program for The Lifeline Canada Foundation. Patricia is a recognized Evaluator and we are offering classes to work on the different tasks, Testing you in the Temperament assesment and Evaluating your final test.

Once dogs are certified, these pets are able to serve in a variety of meaningful positions including Personal emotional support, Assisted and Visiting Therapy. For assisted and visiting designations, this is a tremendous opportunity to share your dog's love with someone in need.

Please note Companion Paws Certified dogs are designated therapy dogs and are not certified as service dogs.

Guidelines:
- Calm and gentle temperament
- Very well trained. Obedience, manners and socialization training.
- Very friendly
- Great with people of all ages and not aggressive to people or other dogs
- Dogs are expected to be clean and healthy with up to date vaccinations
- Spayed/neutered
- Minimum age of dog is 1.5 years old. There is no age limit on dogs.

To qualify as a therapy dog, the dog must have up to date medical health records letter from his or her veterinarian, current dog license and must have no aggression towards people or other dogs (including un-neutered male dogs).
We assess 3 types of Animal Assisted Therapy Dogs
Personal Therapy Dog:
A personal therapy dog is a trained, evaluated and certified dog that brings positive mental health benefits to their owners. Therapy Dogs are especially beneficial to those that struggle with mental wellness. For personal therapy dog certification, one must have a letter from their current mental health professional.



Assisted Therapy Dog:
Assisted Therapy Dogs work with their owner, typically: educators, teachers, psychologists, counsellors and doctors. A calm well behaved and loving dog at their workplace can bring great benefit to their students, clients, customers and patients.

Visiting Therapy Dog:
typically, Visiting Therapy Dogs visit hospitals, schools, hospices and nursing homes, to name just a few. Unlike service dogs, therapy dogs are encouraged to interact with a variety of people while they are on-duty. Visiting Therapy dogs may also visit schools, daycares, group homes and rehabilitation centers. Their roles vary from: dogs who give learning-disabled children the confidence to read out loud, to actively participating in physical rehabilitation therapy.

THERAPY DOG PREP-CLASS
Join our Therapy Dog Class and let us help you preparing your dog for the 17 tasks tested in the Final Assessment.

Once your dog is done with the class I will do a quick assessment and then confirm with Companion Paws that you are assessed and ready for the program to enroll. You will have to register there and complete some online training videos to make sure you are all set for the Final Evaluation. This will also take place at Crazy Jumpers and you will be on our and Companion Paws list as participant.


Contact us:
address
Crazy Jumpers Dog School & Boarding
PO Box 133
Fraserwood, MB, R0C 1A0
Social Media
Facebook

Instagram @crazyjumpersdogs